We make music easy. Learn, practice, listen to and enjoy everything musical at one of the Motor City's great music hubs. We are Metro Detroit's source for new and used instruments for sale and rent, the largest print music department in the area, and all the accessories musicians need. Our skilled staff helps beginners and experts choose and maintain instruments with a diverse, affordable selection and expert, professional repair work conducted on-site.
Our educators shape new talent and help emerging artists develop their skills with private and group music lessons. At Cameron's, we celebrate music.
Instruments
There's not much that beats picking up a finely crafted musical instrument and making it sing. We are able to do something very few music stores can do: regularly stock a complete line of musical instruments, new and refurbished, beginner to professional, from the best manufacturers in the world. This, coupled with our easy school rental program, huge line of accessories, and world-renowned in-house repair facilities, makes Cameron's Music the solution for all your musical instrument needs.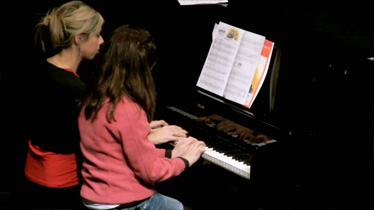 Lessons
Imagine how thrilled you'll be when you learn your first song. Or imagine how proud you'll feel when you see your child take a bow after performing in their first recital. Picture the thrill you'll get knowing how confident your child is performing onstage with their rock band. At Cameron's, we make learning music fun and productive. Our dedicated instructional staff has the knowledge, skills, and patience to help you soar as a musician. Let us tailor a curriculum that's just right for you and your family.
Sheet Music
The sheet music department at Cameron's is really the best in the area. Stop in and browse our collection! We carry all the school band method books, all the major piano methods, solo and ensemble competition pieces, current Federation Festival (NFMC) pieces, National Guild of Piano Teachers competition pieces, fake books, holiday music, Broadway, movie, and other contemporary songs, rock/pop style playing, music theory books, and individually printed sheet music on demand.
Cameron's Music was established in 1993 by Ken Cameron as a one-person band instrument repair center and has flourished over the course of almost three decades into the definition of a successful family-run business. Ken is joined by his wife and their daughter and son-in-law in the day-to-day operations of repairing instruments, managing the retail showroom, and running the instrument rental and music lesson departments. Not only do we work in the beautiful city of Livonia, but we all live here now as well and Ken's grandkids attend Livonia Public Schools. One of the greatest things about being a part of this community for so long is seeing people who we helped with music as kids grow up and bring their own kids into the store! From our family to yours, thank you for celebrating music with us.